John was born in Utica, NY, but grew up in California and Michigan. He returned to Utica to attend college and upon graduating in 1979, went to work for a wood products manufacturing company. "When the company was sold, I started Rich Home Building, initially as a remodeling company with the goal to get into home building," said John. He is a member of the Mohawk Valley Home Builders Association and an outdoor enthusiast.
John, with his partner and cousin, Paul Rich, started building traditionally styled colonial spec homes in the Utica area. "The first homes we built were more conventional, average-cost homes," said John. "As we grew, we developed some unique qualifications in post and beam construction and rustic detailing. The demand for this type of architecture opened new opportunities with a different clientele." The company grew steadily and the two are now building three to five high-end custom homes a year.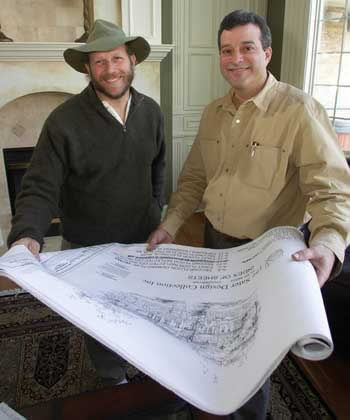 Presently, they keep busy building custom homes with unique and authentically accurate design elements. They also act as specialty subcontractors in commercial construction. In addition to building exclusive homes in Utica and the surrounding counties, John and Paul, who is also an outdoor enthusiast, put their love of nature to good use by building and designing rustic style homes in the Adirondacks. "We've built up a presence there in the past few years," said John. "The Adirondack architecture is based on Old World detailing with the use of native materials, including wood and stone." Few builders have mastered the methods of blending the warmth and ambiance of the Adirondack style with the modern techniques and materials necessary for an energy-efficient design. John and Paul educated themselves on the authentic detailing of the past and brought in experts to teach them the skills they needed in order to offer their clients distinctive second homes. "Paul is an exceptionally gifted and talented craftsman, qualified in handcrafted architectural details," said John. "His ability to create a number of different styles of detailing — from very rustic Adirondack style to beautiful ornate, formal woodworking, sets him apart and has given him an excellent reputation that is well-known the area. Paul's reputation is passed from client to client before they even meet him. "Part of our referrals are based on his excellent craftsmanship and his hands-on manner in custom woodworking and detailing.
"The area's growing health service community is a strong referral base for us," said John. Because most of his clients are referrals, John knows that they expect total satisfaction in the finished product. "I've always put customer satisfaction first. It comes before the bottom line. The high level of standards and quality that we have set for ourselves will not be compromised. Quality and customer service is what we are drawn by," he said. "It supercedes all of our other concerns. Paul and I both have a personal enthusiasm for building. We enjoy creating homes that our clients enjoy and are proud to live in."
That quality is evident in the 4,800-squarefoot European country style home that Rich Home Building & Development has recently completed in Clinton, NY. The exterior of the home is a combination of brick, stone and stucco set on more than an acre of land amidst farmland and rolling hills.
The custom-designed mahogany front entry welcomes one into a beautifully constructed, dramatic two-story foyer with large windows above the door offering scenic views. The four bedroom, four-and-a-half bathroom home features three gas fireplaces, hand-painted murals, two cherry staircases, a two-story great room and hardwood floors with in-floor radiant heat at the basement and first floor levels. The nine- and 10-foot ceilings found throughout the home bring attention to the custom-made built-in bookcases and cabinetry, which allow one's eyes to travel upward to catch the detail in the hundreds of linear feet of custom fabricated trims and moldings.
Each home is designed for a specific site or setting. The unusual floor plan layouts and exterior designs are modeled with the client's requirements and wishes in mind. "I try to find stock plans that have most of the features the client is looking for and then we modify them to suit the client," said John. "If they have many unique requirements in mind, we steer them in the direction of an architect." John also encourages his clients to show him photos of features they would like incorporated into their home so that he can get some idea of what they are looking for. The client is very involved in the design process; however, John and Paul work closely with the architect on the details because of budget constraints. "We like to represent the client's vision without breaking the bank," he said.
In addition to distinctive beauty, the homes built by Rich Home Building & Development offer a variety of energy-efficient features. Energy Star approved windows, as well as the latest HVAC technologies, including radiant heat, high-velocity forced air and electronic air cleaning systems are featured throughout. "My clients take it for granted that we will provide high-quality, energy-efficient products," said John. "While the aesthetics of the home may be what we spend most of our time discussing, we make a large effort behind the scenes to provide the energy efficiency they expect."
John and Paul's crew of 12 share in their bosses' enthusiasm to build high-quality homes. His advice to those starting out in their own business is to start small and grow at a pace that allows one to grow steadily, but not too fast. "Builders can run into opportunities where they have the chance to grow too quickly, which may impact the quality of the finished product," said John. "It's also important to put together the right complement of people — those who are trustworthy, dependable and conscious about quality. That's one of the things that have made us successful over the years — a crew with those characteristics." And honesty is the most important characteristic in John's career. "If you are honest, customers are more willing to work with you," he said. "Most of my clients weigh me early on and find a genuine enthusiasm for building, and realize that will translate into a good working relationship."
John sees a bright future for Rich Home Building & Development. He will continue to specialize in high-end home building with a controlled, steady growth in the business, while improving on the efficiency of each project. His family and friends have always been there to lend advice and support as he, his partner and his crews strive to offer quality design and construction, on time and to the customer's complete satisfaction.
John's final thought with a twinkle in his eye, says, "Paul and I enjoy building homes that are architecturally sound and accurately built with a lot of attention to detail. It's very rewarding. Every day, we see something taking shape. It's very satisfying to see the finished product at the end."